SENTRY MANAGEMENT, INC 
Sentry is available 24 hours and takes care of closings, leasing, certificates of insurance, assessments for violations, accounting, records, state and federal filings, negotiations with vendors and contracts, etc.
To streamline information and payments:
       SERVICE
       HOW
   DELIVERY
I. ORDER Parking Decals
SMART DECALS
Sentry will US mail or pickup at Sentry address below.
II. ORDER fobs and clickers.
SEE/CLICK/FIX
Sentry will US mail or pickup at Sentry address below.
III. GETTING LISTED The Visitor Box at gate enables a three digit code attached to your name. Once established the visitor can punch # in and it will call the phone number referenced in the security system to talk to you. Then push "9" on your keypad to let visitors in.
Sentry contact info is at the bottom of this page.
Sentry will put into system.
IV. ONLINE "ClickPay" PAYMENT
Setup account information here: https://330mcgill.com/see-click-fix-app/
(Must have a 16 digit McGill Place Account #)
Questions Answered:  https://www.sentrymgt.com/frequently-asked-questions/
Can set up monthly and not worry about it.
Set paperless to not receive payment coupons.
V. SENTRY COMMUNITY PRO® PORTAL   McGill Place private downloadable information and online services. 
A. Tutorial: Sentry CommunityPro Portal Access Tutorial.pdf
B. Link To PORTAL: https://www.accesssentrymgt.com/dx/sentrywp/ Once logged in there is a menu of choices including :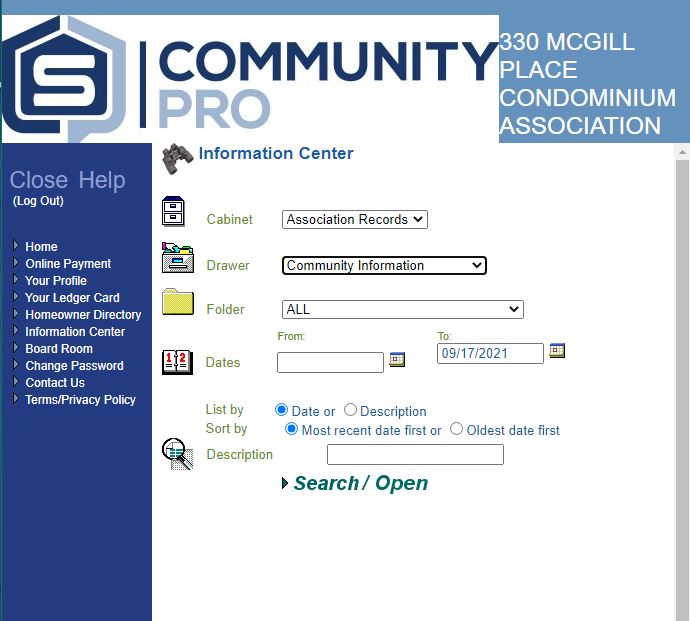 (ABOVE) CommunityPro® menu with search parameters.
VI.

SENTRY COMMUNITY  CONTACTS
 

Information Center

with cabinet, drawer &  folder Search parameters.
After logging into PORTAL –here is path to find  folders 1-6 below:
Left Side Menu: Information Center> Cabinet: Association records
> Drawer: Community information

Architectural Standards and Guidelines

Meeting Minutes

Form to sign for EV station access. Here are EV Station 

Guidelines

.

Budgets

Certificate of Insurance (for your Mortgage Company: Community Association Underwriters of America, Inc.)
Governing Documents (Legal information)

Certificate of Insurance for your Mortgage Company: You can also go here https://www.cauinsure.com/CertRequest , fill out the form and they will send it to your mortgage company.